EcoTouch+ Wireless Thermostat
The EcoTouch+ wireless thermostat user interface with internal occupancy detection offers a flexible state-of-the-art room automation and energy savings solution with a sleek, updated, ultra-thin and modern design. Our wireless remote display offers complete freedom to install it anywhere, integrating the EcoTouch+ into the overall interior design; and when room renovations dictate relocation, moving the EcoTouch+ only takes a few minutes.
Available in Black or White and Silver or Gold side color bands
Best-in-Class Occupancy Sensors
Telkonet boasts best-in-class occupancy sensing technology with ultra-sensitive wide-angle passive infrared and active IR detection. No more false readings: the EcoTouch+ will not switch to unoccupied mode when your guest is sleeping and it will not remain in an occupied mode when vacant.
Learn More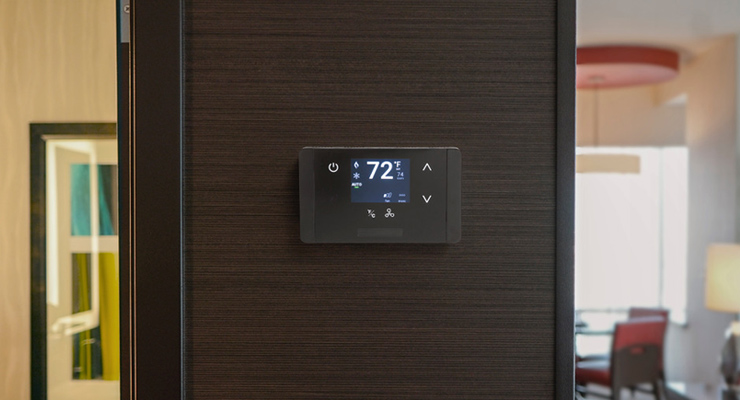 Key Features of the EcoTouch+
Haptic feedback (light vibration when touching screen icons)
Ultra-thin: only 15mm deep
Updated design with a full-color capacitive touch flat screen
Customizable touchscreen interface
Traditional thermostat buttons replaced with icons on glass
Future-proof: over-the-air (OTA) updates

Technology Ready for Integration
Provide your guest with an inviting welcome scene. As soon as your guest checks in, the PMS alerts the EcoSmart system, and a new temperature setpoint is sent to the thermostat. EcoSmart technology integrates seamlessly with other in-room technology providers such as Axxess Industries, Crestron, Control4, Lutron, Salto, Saflok, Somfy,Vingcard and many others that include entry locks, lighting, motorized shades and power outlets controlling the TV and lamps.
Learn more about integrating the EcoTouch+
EcoTouch+ in a Fully Integrated Suite
Together, the EcoSmart energy management platform of wireless devices report back to EcoCentral. The energy monitoring system's data is analyzed and results in real-time reporting to track progress toward total efficiency goals. Installation is versatile, customizable and scalable. We understand no two buildings are the same and communicating over wireless networks offers flexibility, allowing for customized system designs that will work best for each customer.
View Case Studies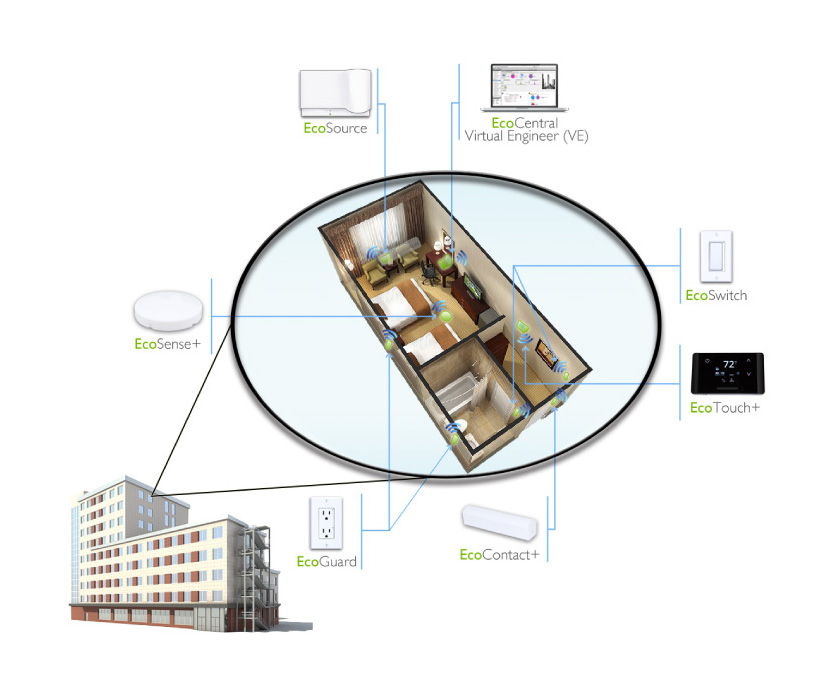 Ready to Get Started?
To learn more about our automation platform and devices or to get an energy savings estimate, please contact our dedicated sales team today.
Contact Us